It is NOT business as usual in real estate anymore.
The Coronavirus has devastated families and economies worldwide, in a very short time. I want to acknowledge up front the sensitivity around this topic. With respect for the lives lost and concern for the livelihoods destroyed, my hope is simply to provide tools for families facing decisions about their living situations.
Why talk about real estate during this difficult time?
The industry must adapt quickly, because for many of us, life doesn't stop. There are families who need to buy or sell a home for all kinds of reasons, including job loss or transfer, marriage or divorce, retirement, a birth or death, and military relocation. Everyone needs someplace to live. That's why most states have deemed certain real estate activities "essential," but only under strict rules.
What just happened?!
Months ago, COVID-19 disrupted life as we know it in Kitsap County—with panic buying of toilet paper and groceries, school and business closures, event cancellations, and social distancing.
After the outbreak, stocks fell sharply. After years of sustained growth, we entered a "bear market," or economic decline. Here in Kitsap County, many restaurants, shops, clinics, and small businesses shuttered. And parents scrambled to adjust to the kids being home from school.
So what do we do now?
No one can predict the future, but we've seen positive signs as the county has begun to reopen. The news coverage incites panic, the government changes its mind, and the available data is confusing. So, I will share information below to help buyers and sellers make more informed decisions about real estate, based on what we know right now.
Disclaimer: None of the personal views expressed in this article are intended to provide legal or financial advice.
If we do face a recession, that doesn't mean a housing crisis.
There's a lot of debate about whether we entered a recession, or simply a temporary "economic slowdown." But in either case, you shouldn't necessarily assume that there will be a housing crisis, as well.
The last great recession (2008) was primarily caused by the housing market. The real estate industry was unhealthy, as a result of poor lending practices and a surplus in housing (too much supply). Additionally, many homeowners had tapped the equity in their homes, and found themselves underwater in their mortgage (the home wasn't worth what they owed).
That was an entirely different situation than the medical crisis of today! There is no sub-prime lending problem now, and we have a need for more housing, instead of a surplus. And we don't have many households over-leveraging their home equity.
The real question is, "How long will the COVID-19 crisis last?"
A healthy real estate market would normally rebound right after a pandemic like this, and we've seen signs of improvement in recent weeks. But the economic shutdown has left hundreds of thousands of people unemployed suddenly. And with 2/3 of Americans living paycheck-to-paycheck, a high percentage of this population will struggle to pay the rent or mortgage.
Depending on how long the shutdown lasts, prolonged unemployment leads to property foreclosures. But governments are announcing a moratorium on evictions and foreclosures, to keep the bottom from falling out of the housing market. This should provide some temporary relief, but it won't protect against additional shutdown or prolonged re-opening of businesses. Of course, we hope that the market will continue to bounce back quickly.
The housing market is incredibly durable.
Zillow's research indicates that during other worldwide pandemics, real estate activity just paused temporarily. There are fewer transactions during a pandemic, but home values don't necessarily fall as a result.
Home values may level out.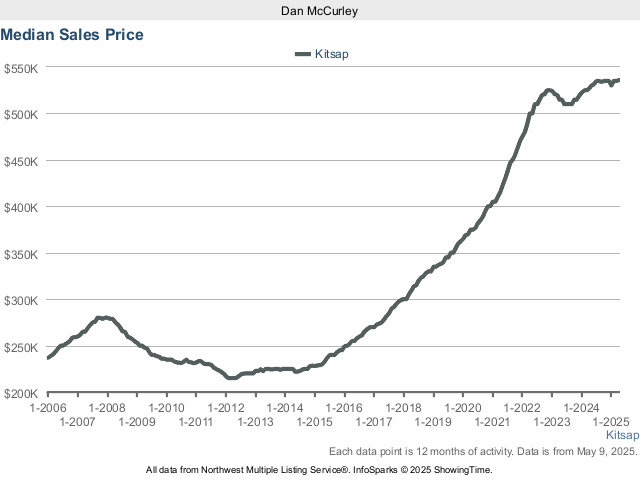 Kitsap County home prices have increased dramatically since 2014, fueled by intense buyer demand and a shortage of housing. But buyer demand is waning now; seller's shouldn't assume that their home values will continue increasing at the same rate. But it's unlikely we'll see a big drop in values, either, based on historical data.
Buyer demand might decrease.
It's reasonable to expect that buyer demand will relax due to the COVID-19 economic fallout. Job losses and employment changes will impact many loan applications. Buyer confidence will diminish as well, depending on how long the epidemic lasts.
Buyer competition may not be quite as tough going forward. Homes may take a little longer to sell, and buyers may have more choices as the current seller's market tries to balance itself out. That's why it's essential for sellers to get the pricing strategy right, up front. But we haven't seen signs yet of buyer demand decreasing; in fact, it's stayed high!
The housing supply remains limited.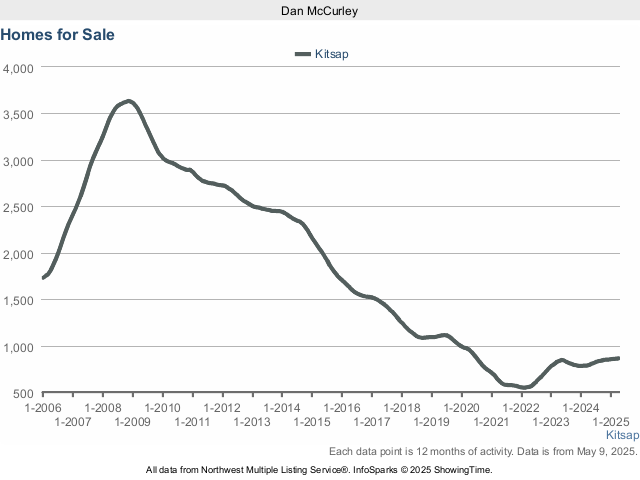 Both locally and nationally, the housing market supply is at a near all-time low, and buyer demand is at a near all-time high. The limited number of homes for sale is the primary reason that home values won't drop suddenly.
Our housing shortage here in Kitsap County is extreme, and low inventory has been a problem for a long time. That's not likely to change soon, especially if shipments of construction materials get delayed from China, which supplies a third of our building supplies. Most of the construction industry was also halted in March, which will delay the completion of new homes.
Low mortgage rates will continue to attract buyers.
Historically low mortgage interest rates may help keep nervous buyers in the market. And many homeowners are already taking advantage of the market conditions to refinance. Investors may also look to real estate as an alternative to stocks, in this challenging season.
Unlike 2008, we're unlikely to see a huge surge in foreclosures.
Remember that a multitude of homeowners in 2008 walked away from their homes (in foreclosure) because they were upside-down in their mortgages, and couldn't sell for as much as they owed. Most experts aren't predicting a big drop in home values. But even if they did, most homeowners will still have equity in their homes, and they will not walk away from that money.
The government also learned its lesson last time, and it took swift action to prevent a sudden spike in foreclosures:
The Federal Housing Administration indicated it is enacting an "immediate foreclosure and eviction moratorium for single family homeowners with FHA-insured mortgages" for the next 60 days.
The Federal Housing Finance Agency announced it is directing Fannie Mae and Freddie Mac to suspend foreclosures and evictions for "at least 60 days."
Financial relief will also be available to many workers and small businesses, which can reduce the potential fallout of the economic shutdown.
Is it a good time to buy or sell a house?
In short, the real question is whether it's the right time for YOU. The market responds to shifts in buyer demand, housing supply, mortgage interest rates, and other factors. Pricing and negotiation strategies differ, based on seller inventory and buyer competition. That's why I focus on your needs, instead, and help you rank your priorities:
Price point and loan interest rates
Wide selection of ideal homes (styles, neighborhoods, age of the home, etc.)
Moving soon (specific timeline or goal)
Level of competition (bidding wars and multiple-offer situations)
High cost of rent (alternative to buying)
Investment factors (resale or rental income potential)
Unless a prolonged economic shutdown causes more sustained and widespread unemployment for months and months, we'll likely continue on in a seller's market (due to low supply).
Your agent is a great resource in strategizing to make your real estate game plan. There is wisdom in understanding your choices, knowing the market, and intentionally planning for success. If you'd like to discuss your plan, call or text me today at 360-979-6411.
Real Estate Industry Response to COVID-19
The Coronavirus wreaked havoc on real estate deals. Sudden changes in employment and finances prevented some buyers from getting final loan approval. Special legal provisions are being made for contracts impacted by the COVID-19 pandemic, and alternative procedures are being developed daily.
Many buyers and sellers are in the same odd situations, suddenly, and brokers are doing everything they can to ensure that transactions can proceed as planned. Meanwhile, state and federal officials are working to alleviate the pressure of evictions, student loan payments, tax deadlines, utility bills, and unemployment to delay penalties, where possible. Hopefully, relief is in sight!
Showings & Open Houses
On March 23, 2020, Governor Inslee issued a statewide "Stay Home, Stay Healthy" order requiring the closure of all "non-essential critical infrastructure workers." Open houses and working outside the home are not permitted. Certain essential real estate activities are still permitted (see all official memos and updates here).
The protocols that must be followed for permitted in-person activities in Phase 2 include:
In-person activities must be by appointment only;
No more than three people, including the broker, may be at the property at any one time (brokers must wear masks and clients should, too); and
Those two persons must strictly follow social distancing guidelines established by the Centers for Disease Control and Prevention ("CDC") by remaining at least six feet apart at all times.
Provided the above protocols are followed for any permitted in-person activity, real estate brokers may:
Conduct listing presentations, take photos, and create virtual tours for new listings;
Facilitate signing of contract documents;
Preview and show listings by appointment only;
Facilitate inspections, appraisals, buyer "walk-throughs," and key delivery.
I personally am abiding by all social distancing guidelines for the protection of vulnerable individuals in our community. Homes should only be shown to pre-approved buyers who are interested in making an offer on the property. The following cautions can help prevent the spread of disease, in addition to social distancing, and the requirements laid out above.
Video 3D tours, virtual stagings and FaceTime tours as an alternative
Only one person entering the home at a time
Disposable latex gloves (to avoid any direct contact with surface germs)
Disposable shoe booties
Alcohol or disinfectant wipes used for all doorknobs and surfaces that get touched
Disinfecting the home before and after a showing
Hand sanitizer upon entering and exiting the home.
Escrow & Closing
During a transaction, there is almost no need to meet in person. When you work with me, virtually all aspects of the transactions are conducted through an online portal. Exceptions include the home inspection and appraisal. From electronic signings to virtual tours and mobile notary services, there are many ways to buy or sell a home while keeping your family safe. In fact, my normal process for securely signing and filing paperwork is completely cloud-based. I will miss being able to connect in person, but keeping our distance is the right thing to do during this season.
Stay safe and stay home.
However the situation continues to evolve, I'm here for you! Your health and safety are of utmost importance to me. We must evaluate each situation to ensure that we never put you or someone else in harm's way. Remember to wash your hands often, don't touch your face, and avoid going out in public.
I invite you to call or text me at 360-979-6411 to schedule a video chat to discuss your real estate needs. I'm confident we can make a great plan, while minimizing any risk.
---
Join My FREE VIP Newsletter
My helpful articles, hyper-local news, and community event highlights will keep you in the know. Get the best local real estate resources in Kitsap County, sent straight to your inbox each week.
Fun Kitsap community events and family activities
Practical tips and local resources for homeowners
Expert real estate advice and housing market trends
FREE access to MLS Listings and custom email alerts
Helpful Kitsap County real estate guides and tools
PLUS… the best (or worst?) dad jokes!
100% Secure. Unsubscribe at any time.